Maps and collection points for Day Tours click here

Coach touring of Sydney & Outer Regions

City Sights
Sydney Olympic Park, Homebush Bay
The Blue Mountains – Nature & Wildlife
Australia's Wonderland and Australian Wildlife Park
Australia's Wonderland
Hunter Valley – Winery Region
Nelson Bay

4WD & Trike touring of Sydney & Outer Regions

City to Surf (Sydney city to Bondi Beach)
The Blue Mountains – Nature & Wildlife
The Hunter Valley - Wineries
Wollongong - South Coast
Port Stephens – North Coast
Wolgan Valley - Glow Worms Tunnel

SYDNEY, THE SENIOR CITY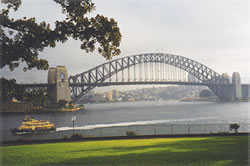 Combined Coaches 1 presents Sydney, the Senior City and would like to invite you on a magical journey to discover or rediscover this fabulous and historic place.
In this busy city, reminders of Australia's first English settlers still abound while the multi-cultural flavour of the last century's migrants adds a unique and exciting touch.
We offer a wide range of day tours to suit your individual and group needs. All you need to do is contact one of our consultants or your concierge for further information or to arrange a tour of your choice.
We look forward to rediscovering Sydney with you!
Sydney, the largest and oldest Australian city is more than just a place to be seen. It is an experience not to be missed.
No metropolis in the world comes close to matching its stunning and broad Harbour setting with its many inlets and bays all contributing to a spectacular dimension of city life.
At weekends the Harbour is alive with sails and power crafts and added to the natural beauty are the twin, man-made landmarks famous worldwide - the Harbour Bridge and the Opera House. The Opera House, created by Danish architect Joern Utzon, is one of the most innovative buildings of the 20th century. The Bridge, linking the north and central parts of the city was considered one of the engineering wonders of the modern world when completed in 1932.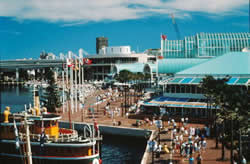 Since Governor Arthur Phillip arrived in Sydney in 1788 with a fleet of 11 ships and 1030 colonists (736 of them convicts), Sydney has continued to grow into an exuberant and stylish city.
Over four million Sydney-siders reside throughout the 4000 square kilometres of suburbs, stretching 55 kilometres inland to the foot of the Blue Mountains and 70 kilometres from north to south.
The heart of Sydney centres around Sydney Cove and its immediate area and over the years the city's skyline has evolved into an angular profile similar to a tall glass.
To the conservationist's delight much of the city's colonial heritage has been preserved including buildings that have seen Australia span from a penal colony to a nation.
St James's Church and the Hyde Park Barracks, designed by the convict/architect Frances Greenway, have all stood for around two centuries, as too has Parliament House.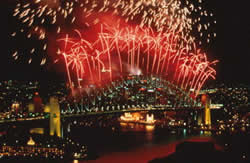 The Rocks area under the Harbour Bridge where the First Fleet arrivals established their primitive homes is Australia's oldest residential area. It has stubbornly clung to a crooked-street charm that many Sydney residents and visitors find delightful.
Macquarie Street boasts Sydney's most handsome thoroughfare with its solid sandstone Government buildings and former townhouses once owned by wealthy colonists. The Botanic Gardens, Hyde Park and Centennial Park are the city's breathing spaces and today are landmarks that even Sydney-siders are still amazed by.
Inner city suburbs retain the aura of Victoriana from which they sprang and have further evolved taking on characters of their own. The charm of the 19th century terraces and cottages has become increasingly appreciated and in many cases whole streets have been brought back to their old graceful dignity.
Hop on board and experience Sydney too!